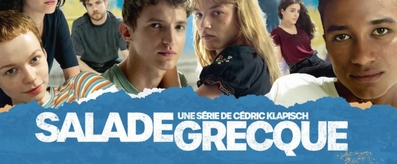 Cliquez sur l'affiche du film afin d'obtenir plus d'informations et voir la bande-annonce !
Affiche
Film
Plateforme
NOTRE AVIS
AVIS DE LA PRESSE
AVIS DU PUBLIC
"ANNIE COLÈRE"
"GREAT FREEDOM"
"TROIS NUITS PAR SEMAINE"
"SEOBOK"
"TICKET TO PARADISE"
"TIN & TINA"
"BLOOD & GOLD"
"LES AMANDIERS"
"AUCUN OURS"
"HYPERSOMNIE"
"SPIN ME ROUND"
"ARMAGEDDON TIME"
"UN BEAU MATIN"
"LES CRIMES DU FUTUR"
"RODEO"
"PLUS QUE JAMAIS"
"FUNNY PAGES"
"LES NUITS DE MASHHAD"
"LEILA ET SES FRÈRES"
"CANAILLES"
"AFTER YANG"
"MASCARADE"
"TORI ET LOKITA"
"WIM WENDERS : Desperado"
"LES BLANCS NE SAVENT PAS SAUTER" (2023)
"CLOSE" (2022)
"LES HARKIS"
"PACIFICTION : Tourment sur les îles"
"DOUBLE VICE"
"SANS FILTRE"
"LE SERMENT DE PAMFIR"
"MEN"
"RIPOSTE FÉMINISTE"
"EO"
"R.M.N."
"NITRAM"
"LA CONSPIRATION DU CAIRE"
"TROIS MILLE ANS À T'ATTENDRE"
"AIR" (2023)
"SIMONE : LE VOYAGE DU SIÈCLE"
"THE MOTHER" (2023)
"JACKY CAILLOU"
"STILL : la vie
de Michael J. Fox"
"HOWARD HUGHES : Avions, Amours et Cinéma"
"REBEL" (2022)
"JERRY LEE LEWIS : Trouble in Mind"
"DUAL"
"GOD'S CREATURES"
"SHARP STICK"
"L'INNOCENT"
"HARKA"
"LA MACHINE INFERNALE"
"FRATÈ"
"LA PAGE BLANCHE"
"BED REST"
"JACK MIMOUN & les secrets de Val Verde"
"#NO_FILTER"
"JOLI DÉSASTRE"
"LA GRAINE"
"L'ÉCOLE EST À NOUS"
"MON PAYS IMAGINAIRE"
"COLLECTION"
"MÉDUSE"
"BUZZ L'ÉCLAIR"
"AKA"
"MOONFALL"
"L'HORLOGE"
"L'OMBRE D'UN MENSONGE"
"PETER PAN & WENDY"
"LAND OF THE SONS"
"SMILE"
"AVEC AMOUR ET ACHARNEMENT"
"GHOSTED"
"LE VISITEUR DU FUTUR"
"À L'OMBRE DES FILLES"
"RESIDENT EVIL : Bienvenue à Raccoon City"
"DON'T WORRY DARLING"
"LE PHARAON, LE SAUVAGE ET LA PRINCESSE"
"ONE MORE TIME" (2023)
"MA FAMILLE AFGHANE"
"À LA GORGE"
"HALLOWEEN ENDS"
"MARX PEUT ATTENDRE"
"MI IUBITA MON AMOUR"
"LÀ OÙ CHANTENT LES ÉCREVISSES"
"LA PROIE D'UNE OMBRE"
"SNAKE EYES" (2021)
"JUMEAUX MAIS PAS TROP"
"BABI YAR. CONTEXTE"
"DÉDALES" (2022)
"L'ORIGINE DU MAL"
"JOYEUSE RETRAITE 2"
"HUNGER" (2023)
"NOVEMBRE"
"OPÉRATION FORTUNE - Ruse de Guerre"
"CHUPA"
"LE SIXIÈME ENFANT"
"L'OMBRE DE GOYA"
"THERE ARE NO SAINTS"
"PLAN 75"
"THOR : LOVE and THUNDER"
"MURDER MYSTERY 2"
"TETRIS"
"PÈRE STU : un héros pas comme les autres"
"KILL BOK-SOON"
"RON DÉBLOQUE"
"SWEETIE, YOU WON'T BELIEVE IT"
"STÉPHANE"
"PUSSY CAKE"
"LIBRE GARANCE !"
"L'ÉQUIPIER" (2022)
"NOPE"
"PERFECT ADDICTION"
"LE BAL DE L'ENFER"
"TEMPURA"
"THE KILLER - Mission : Save the Girl"
"BODIES BODIES BODIES"
"LA DÉRIVE DES CONTINENTS (Au Sud)"
"LE ROI DES OMBRES"
"L'ÉTRANGLEUR DE BOSTON" (2023)
"AGENT GAME"
"L'ÉLÉPHANTE DU MAGICIEN"
"INCROYABLE MAIS VRAI"
"EVERYTHING EVERYWHERE ALL AT ONCE"
"TOUT FOUT LE CAMP"
"RUMBA LA VIE"
"LUTHER : Soleil Déchu"
"ET J'AIME À LA FUREUR"
"LE GRAND MOUVEMENT"
"L'HISTOIRE DE MA FEMME"
"DEVOTION"
"SAYEN"
"TEEN WOLF : le film" (2023)
"DE L'AUTRE CÔTÉ DU CIEL"
"BDE"
"INSIDE TED : dans la tête du serial killer"
"WE HAVE A GHOST"
"DIE HART"
"VESPER CHRONICLES"
"DANS LEUR OMBRE"
"SHARPER"
"TOI CHEZ MOI
ET VICE VERSA"
"SHOTGUN WEDDING"
"THE PALE BLUE EYE"
"AS BESTAS"
"POKER FACE"
"MARIA RÊVE"
"RIFKIN'S FESTIVAL"
"DUCOBU PRÉSIDENT !"
"BECOMING FATHER"
"BULLET TRAIN"
"SANS ISSUE" (2023)
"LES MINIONS 2 : Il était une fois Gru"
"ONE PIECE FILM : RED"
"EL BUEN PATRÓN"
"MONDOCANE"
"BLACKLIGHT"
"LE PETIT NICOLAS : qu'est-ce qu'on attend pour être heureux ?"
"LA NUIT DU 12"
"MIXED BY ERRY"
**** Archives 2023 ****
*** Archives 2022 ***
** Archives 2021 **
* Archives 2020 *
Sur 1000 Films, découvrez chaque jour l'avis de la presse et des spectateurs sur les nouvelles sorties de films en streaming légal sur Netflix, Canal+, MyCanal, Amazon Prime Video, OCS, Disney+, Apple TV+ ou encore Paramount+ et Ciné+.
Présenté sous la forme d'un tableau des étoiles.