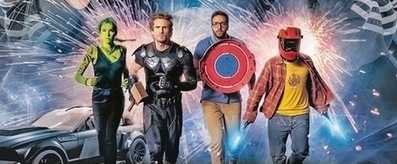 Cliquez sur l'affiche du film afin d'obtenir plus d'informations et voir la bande-annonce !
Affiche
Film
Plateforme
NOTRE AVIS
AVIS DE LA PRESSE
AVIS DU PUBLIC
"RESPECT"
"DARK WEB
CICADA 3301"
"MIDNIGHT SILENCE"
"PREY" (2022)
"CARTER" (2022)
"LUCK" (2022)
"TREIZE VIES"
"MA BELLE-SŒUR BIEN AIMÉE"
"LE DESTIN DES TORTUES NINJA"
"FATIMA" (2021)
"SERRE MOI FORT"
"POURRIS GÂTÉS"
"THE GRAY MAN"
"LA DISPARUE"
(last seen alive)
"LES BODIN'S EN THAÏLANDE"
"THE CRAFT : les nouvelles sorcières"
"ALBATROS"
"LE SOMMET DES DIEUX"
"CATCH THE FAIR ONE"
"LE TRADUCTEUR"
"NEXT DOOR"
"MEMORY" (2022)
"DEBOUT
LES FEMMES !"
"ROSY"
"NOS CŒURS MEURTRIS"
"PIPA"
"EMPATHIE"
"DOG" (2022)
"RIEN N'EST IMPOSSIBLE"
"LA CROISADE"
"NOBODY"
"LES CROODS 2
Une Nouvelle Ère"
"LES OLYMPIADES"
"LA TRAVERSÉE"
(de Florence Miailhe)
"LA PANTHÈRE DES NEIGES"
"A PERFECT ENEMY"
"BIGGER THAN US"
"MYSTÈRE À SAINT-TROPEZ"
"UNE FEMME DU MONDE"
"DON'T MAKE ME GO"
"PERSUASION"
"LES MAGNÉTIQUES"
"OLD"
"LE TRÉSOR DU PETIT NICOLAS"
"LA NUIT DES ROIS"
"LE CALENDRIER"
"BOB'S BURGERS, le film"
"THE REPLACEMENT"
"LE MONSTRE DES MERS"
"PETITE SŒUR"
"LES LIAISONS DANGEREUSES" (2022)
"LE LOUP ET LE LION"
"LE KIOSQUE"
"SHADOW IN THE CLOUD"
"UNE VIE DÉMENTE"
"LA FAMILLE ADDAMS 2
Une Virée d'Enfer"
"LICORICE PIZZA"
"BORREGO"
"FIRST COW"
"LA PRINCESSE"
"LA DÉESSE DES MOUCHES À FEU"
"LA PAT' PATROUILLE : LE FILM"
"SHANG-CHI ET LA LÉGENDE DES DIX ANNEAUX"
"C'EST TOI QUE J'ATTENDAIS"
"DARK SPELL"
"MON LÉGIONNAIRE"
"MY SON"
"À LA VIE" (2021)
"THE FRENCH DISPATCH"
"FORTRESS 2 : SNIPER'S EYE"
"SUPERNOVA" (2021)
"A GOOD MAN"
"THE MAN FROM TORONTO"
"MON PETIT AMI VIRTUEL"
"REMINISCENCE"
"MES TRÈS CHERS ENFANTS"
"SUPRÊMES"
"D'OÙ L'ON VIENT"
"SPIDERHEAD"
"TRALALA"
"BURNING CASABLANCA"
"FLY" (2022)
"TOM MEDINA"
"LE DERNIER DUEL"
"HAUT ET FORT"
"COLÈRE DIVINE"
"CENTAURO"
"LUI"
"LE MONDE DE JOHN"
"CHERS CAMARADES !"
"FREE GUY"
"LE HAUT DU PANIER"
"UN ESPION ORDINAIRE"
"CIGARE AU MIEL"
"DÉLICIEUX"
"HAUTE COUTURE" (2021)
"OLD HENRY"
"INTERCEPTOR"
"THE DESPERATE HOUR"
"PROMISING YOUNG WOMAN"
"ATTENTION AU DÉPART !"
"LA FRACTURE" (2021)
"DUNE" (2021)
"VENOM : LET THERE BE CARNAGE"
"PILOTE"
"GOLD" (2022)
"LOIN DU PÉRIPH"
"LE JOUEUR D'ÉCHECS" (2022)
"FRAGILE"
"MYSTÈRE"
"MARCHÉ NOIR"
*** Archives 2022 ***
** Archives 2021 **
* Archives 2020 *
Sur 1000 Films, découvrez chaque jour l'avis de la presse et des spectateurs sur les nouvelles sorties de films en streaming légal sur Netflix, Canal+, MyCanal, Amazon Prime Video, OCS, Altice Studio, Disney+, Apple TV+ ou encore Salto et Ciné+.