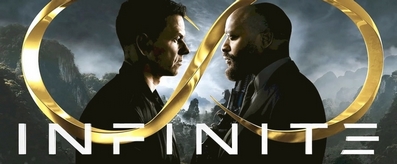 Cliquez sur l'affiche du film afin d'obtenir plus d'informations et voir la bande-annonce !
Affiche
Film
Plateforme
NOTRE AVIS
AVIS DE LA PRESSE
AVIS DU PUBLIC
"FISHERMAN'S FRIENDS"
"SKY HIGH"
"THE TRIP" (2021)
"HÔTEL TRANSYLVANIE - CHANGEMENTS MONSTRES"
"THE TRAGEDY OF MACBETH"
"INVISIBLE MAN" (2020)
"L'EMPRISE DU VICE"
"THE EXCEPTION"
"LA VIE EXTRAORDINAIRE DE LOUIS WAIN"
"DANGEROUS" (2022)
"RIVERDANCE : L'AVENTURE ANIMÉE"
"THE DJINN"
"GAIA"
"HUNTED"
"ASSIÉGÉS"
"VAULT : CASSE CONTRE LA MAFIA"
"LES SÉMINARISTES"
"LE VÉTÉRAN"
"THE TENDER BAR"
"MOTHER / ANDROID"
"HANNES"
"GHOSTS OF WAR"
"THE GREEN KNIGHT"
"THE BOY BEHIND THE DOOR"
"THE LOST DAUGHTER"
"TIME IS UP"
"CATS"
"SOUS LE CIEL D'ALICE"
"BRAQUAGE EN OR"
"THE WORLD TO COME"
"INDES GALANTES"
"THE PROTÉGÉ"
"GODZILLA vs KONG"
"DON'T LOOK UP : DÉNI COSMIQUE"
"JOSÉE, LE TIGRE ET LES POISSONS"
"DIRTY COPS"
"WENDY"
"SHORTA"
"PRISONERS OF THE GHOSTLAND"
"MÉANDRE"
"LE DERNIER VOYAGE"
"TEXTO" (2021)
"LIFE ON MARS"
"LAST CHRISTMAS"
"L'INVITATION" (2021)
"LES TROLLS 2 : TOURNÉE MONDIALE"
"BEING THE RICARDOS"
"DUNE DREAMS"
"L'HOMME QUI INVENTA NOËL"
"SONS OF PHILADELPHIA"
"POSSESSION" (2021)
"MON GRAND-PÈRE ET MOI"
"LES TRADUCTEURS"
"1917"
"LA MAIN DE DIEU"
"UN GARÇON NOMMÉ NOËL"
"LES ENQUÊTES DU DÉPARTEMENT V : L'Effet Papillon"
"SEIZE PRINTEMPS"
"THE LIGHTHOUSE"
"WALTER"
"SWAN SONG"
"L'IMMORTEL" (2021)
"WILLY'S WONDERLAND"
"THE LAST SON" (2021)
"HUNTER HUNTER"
"COPSHOP"
"STARDOG & TURBOCAT"
"JFK : L'ENQUÊTE"
"LA PROIE" (2021)
"IMPARDONNABLE"
"LE VOYAGE DU DR DOLITTLE"
"HISTOIRE D'UN REGARD"
"ENCOUNTER" (2021)
"AVANCE (TROP) RAPIDE"
"ASAKUSA KID"
"L'AFFAIRE PERCY"
"BAD DREAMS"
"RETOUR AU BERCAIL"
"CITY OF LIES"
"SLEEP"
"TIREUR D'ÉLITE" (2021)
"FATMAN"
"MAMIE-SITTER"
"CEUX QUI VEULENT MA MORT"
"HATERS"
"LA CASSETTE"
"MARIONNETTE"
"ÉCOLIERS"
"PETITE MAMAN"
"THE POWER OF THE DOG"
"QUE SOUFFLE LA ROMANCE"
"MA BELLE FAMILLE, NOËL ET MOI"
"SOMETIMES ALWAYS NEVER"
"MEURTRIE"
"BAD BOYS FOR LIFE"
"LES LOIS DE LA FRONTIÈRE"
"L'ÉTREINTE"
"SHOCK WAVE 2"
"THREE CHRISTS"
(State of Mind)
"YOU CANNOT KILL DAVID ARQUETTE"
"GREAT WHITE"
"COSMOBALL"
"UN DRAGON EN FORME DE NUAGE"
"SI JE T'OUBLIE... JE T'AIME"
"ABOU LEILA"
"THE CORRUPTED"
"TICK, TICK... BOOM !"
"LES LIENS QUI NOUS UNISSENT"
"FILS DE PLOUC"
"LA PRINCESSE DE CHICAGO : EN QUÊTE DE L'ÉTOILE"
"KILLER INSIDE"
"KAJILLIONAIRE"
"SHOCK WAVE"
"GOODBYE"
"BATTLESHIP ISLAND"
"FEMMES D'ARGENTINE"
"DISPARITION À CLIFTON HILL"
"COWBOYS" (2021)
"RED NOTICE"
"UNE AFFAIRE DE DÉTAILS"
"MAMAN, J'AI RATÉ L'AVION !
(ça recommence)"
"LES COBAYES"
"FLASHBACK" (2021)
"NIGHTMARE ISLAND"
"CLAIR-OBSCUR"
"THE STYLIST"
"FINCH"
"APRÈS LE MARIAGE"
"YARA"
"LOVE HARD"
"FRENCH EXIT"
"THE HARDER THEY FALL" (2021)
"MON ANNÉE À NEW YORK"
"COUNTDOWN"
"THE SILENCING"
"ARMY OF THIEVES"
"SON"
"J'ACCUSE"
"8 RUE DE L'HUMANITÉ"
"LA BATAILLE DE L'ESCAUT"
"ADIEU LES CONS"
"CANICULE" (The Dry)
** Archives 2021 **
* Archives 2020 *
Sur 1000 Films, découvrez chaque jour l'avis de la presse et des spectateurs sur les nouvelles sorties de films en streaming légal sur Netflix, Canal+, MyCanal, Amazon Prime Video, OCS, Altice Studio, Disney+, Apple TV+ ou encore Salto et Ciné+.