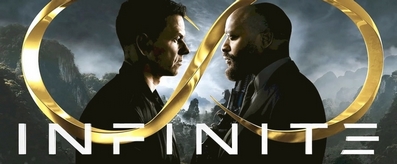 Cliquez sur l'affiche du film afin d'obtenir plus d'informations et voir la bande-annonce !
Affiche
Film
Plateforme
NOTRE AVIS
AVIS DE LA PRESSE
AVIS DU PUBLIC
"MARIONNETTE"
"PETITE MAMAN"
"THE POWER OF THE DOG"
"QUE SOUFFLE LA ROMANCE"
"MA BELLE FAMILLE, NOËL ET MOI"
"SOMETIMES ALWAYS NEVER"
"MEURTRIE"
"BAD BOYS FOR LIFE"
"LES LOIS DE LA FRONTIÈRE"
"L'ÉTREINTE"
"SHOCK WAVE 2"
"THREE CHRISTS"
(State of Mind)
"YOU CANNOT KILL DAVID ARQUETTE"
"GREAT WHITE"
"COSMOBALL"
"UN DRAGON EN FORME DE NUAGE"
"SI JE T'OUBLIE... JE T'AIME"
"ABOU LEILA"
"THE CORRUPTED"
"TICK, TICK... BOOM !"
"LES LIENS QUI NOUS UNISSENT"
"FILS DE PLOUC"
"LA PRINCESSE DE CHICAGO : EN QUÊTE DE L'ÉTOILE"
"KILLER INSIDE"
"KAJILLIONAIRE"
"SHOCK WAVE"
"GOODBYE"
"BATTLESHIP ISLAND"
"FEMMES D'ARGENTINE"
"DISPARITION À CLIFTON HILL"
"COWBOYS" (2021)
"RED NOTICE"
"UNE AFFAIRE DE DÉTAILS"
"MAMAN, J'AI RATÉ L'AVION !
(ça recommence)"
"LES COBAYES"
"FLASHBACK" (2021)
"NIGHTMARE ISLAND"
"CLAIR-OBSCUR"
"THE STYLIST"
"HAVA, MARYAM, AYESHA"
"SÉBASTIEN TELLIER : MANY LIVES"
"FEAR OF RAIN"
"FINCH"
"APRÈS LE MARIAGE"
"YARA"
"NOËL AVEC LE PÈRE"
"LOVE HARD"
"FRENCH EXIT"
"THE HARDER THEY FALL" (2021)
"LES SAVEURS DU SUCCÈS"
"MON ANNÉE À NEW YORK"
"COUNTDOWN"
"THE SILENCING"
"BUTCHERS"
"BLOODY HELL"
"BOOKS OF BLOOD"
"ARMY OF THIEVES"
"SON"
"BANISHING : LA DEMEURE DU MAL"
"THE OTHER SIDE"
"J'ACCUSE"
"100% LOUP"
"HYPNOTIQUE"
"THE GRUDGE" (2020)
"1BR : THE APARTMENT"
"THE ONLY CHILD"
"SEANCE"
"THE GOOD CRIMINAL"
"AFTER : CHAPITRE 3"
"FIRE" (2021)
"CONTAMINATIONS"
"8 RUE DE L'HUMANITÉ"
"MINAMATA"
"L'ENFER SOUS TERRE"
"NIGHT TEETH"
"2067"
"CHERNOBYL : UNDER FIRE"
"THE PALE DOOR"
"CITY HALL"
"LA BATAILLE DU RAIL" (2021)
"LA BATAILLE DE L'ESCAUT"
"ADIEU LES CONS"
"TOXIQUE"
"CANICULE" (The Dry)
"THE CRAFT : LES NOUVELLES SORCIÈRES"
"LES FILLES DU DOCTEUR MARCH"
"WHAT KEEPS YOU ALIVE"
"KILLER GAME"
"THE MANOR"
"CHARLIE'S ANGELS" (2019)
"MADAME CLAUDE" (2021)
"INFINITE"
"CEUX QUI TRAVAILLENT"
"THE GUILTY" (2021)
"QUEENPINS"
"DOWNTON ABBEY"
"LONDON FIGHT CLUB"
"LA VENGEANCE AU TRIPLE GALOP"
"68, MON PÈRE ET LES CLOUS"
"JUMANJI : NEXT LEVEL"
"FELICITÀ"
"SAINT MAUD"
"MOST DANGEROUS GAME"
"GREENLAND : LE DERNIER REFUGE"
"LILLY ET L'OISEAU"
"NEVER RARELY SOMETIMES ALWAYS"
"LE BAL DES FOLLES"
"RIDERS OF JUSTICE"
** Archives 2021 **
* Archives 2020 *
Sur 1000 Films, découvrez chaque jour l'avis de la presse et des spectateurs sur les nouvelles sorties de films en streaming légal sur Netflix, Canal+, MyCanal, Amazon Prime Video, OCS, Altice Studio, Disney+, Apple TV+ ou encore Salto et Ciné+.