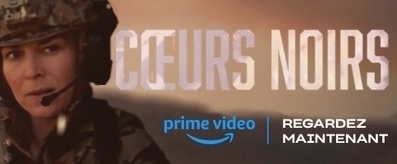 Archives SVOD de l'année 2023 :
Affiche
Film
Plateforme
NOTRE AVIS
AVIS DE LA PRESSE
AVIS DU PUBLIC
"TOM"
"CIRCA"
"I'M YOUR MAN"
"the last kingdom : SEVEN KINGS MUST DIE"
"FEU FOLLET"
"LA DÉGUSTATION"
"BULLET PROOF"
"THE EXECUTION"
"LES ENFANTS DES AUTRES"
"L'INSTINCT DE VENGEANCE"
"LES VOLETS VERTS"
"NOISE" (2023)
"CHRONIQUE D'UNE LIAISON PASSAGÈRE"
"DESTRUCTION BABIES"
"ALLONS ENFANTS"
"LAMBORGHINI : l'homme derrière la légende"
"TAD L'EXPLORATEUR et la table d'émeraude"
"NUIT BARBARE"
"OUT OF DEATH"
"TONY HAWK : Until the Wheels Fall Off"
"LA CIVIL"
"C'EST MAGNIFIQUE !"
"LE MONDE APRÈS NOUS"
"KRYPTO ET LES SUPER-ANIMAUX"
"MUSIC HOLE"
"LUNETTES NOIRES"
"CONTES DU HASARD
et autres fantaisies"
"RHINO"
"EN DÉCALAGE"
"ROGUE AGENT"
"KOMPROMAT"
"SNIPER REDEMPTION"
"LES VIEUX FOURNEAUX 2 : Bons pour l'Asile"
"REVOIR PARIS"
"ENNIO"
"AFFAIRE SENSIBLE"
"LA PLACE D'UNE AUTRE"
"LE FLÉAU" (2023)
"LES GOÛTS ET LES COULEURS" (2022)
"MACK & RITA"
"THE WOLF OF SNOW HOLLOW"
"MENTEUR"
"ENTRE LA VIE ET LA MORT"
"L'ANNÉE DU REQUIN"
"LES FOLIES FERMIÈRES"
"HIT THE ROAD"
"L'ÉCOLE DU BOUT DU MONDE"
"LE VIRTUOSE" (2022)
"MURINA"
"ENTRE LES VAGUES"
"LA GRANDE PISCINE"
"DE NOS FRÈRES BLESSÉS"
"CE SERA TOI"
"VARSOVIE 83 : Une Affaire d'État"
"THE CURSED : LE FILM"
"VAILLANTE"
"LA TRÈS TRÈS GRANDE CLASSE"
"QUELQU'UN QUE J'AI BIEN CONNU"
"DODO"
"UNE MÈRE" (2022)
"HONEYDEW"
"THE PRICE WE PAY"
"FATHER OF THE BRIDE" (2023)
"MASTEMAH"
"LES PROMESSES D'HASAN"
"À PLEIN TEMPS"
"UN PEUPLE"
"L'AFFAIRE COLLINI"
"CLIFFORD"
"LE MÉDECIN IMAGINAIRE"
"AU CŒUR DU BOIS"
"CAHIERS NOIRS -
film 1 : Viviane"
"CAHIERS NOIRS -
film 2 : Ronit"
"LA JEUNE FILLE ET LA MER"
"VORTEX"
"GREENER GRASS"
"INFIESTO"
"JE TREMBLE, Ô MATADOR"
"YOU PEOPLE"
"LA TRAVERSÉE" (2022)
"CRÉATURES"
(The Seed)
"COSTA BRAVA, LEBANON"
"PETER VON KANT"
"NARVIK"
"TWIST À BAMAKO"
"DARBY AND THE DEAD"
"IMA"
"MONEYBOYS"
"ON SOURIT POUR LA PHOTO"
"FRÈRE ET SŒUR"
"JUNG_E"
"THE SADNESS"
"LES PASSAGERS DE LA NUIT"
"SWEAT"
"LES JEUNES AMANTS"
"TRAQUÉS" (2023)
"EN ROUE LIBRE"
"LES SEGPA"
"NOTRE-DAME BRÛLE"
"I LOVE GREECE"
"DOCTOR STRANGE in the multiverse of madness"
"CŒURS VAILLANTS"
"CHIEN PERDU"
"FIRESTARTER" (2022)
"ON THE LINE"
"PETITE LEÇON D'AMOUR"
"THE DUKE"
"DEADSTREAM"
"HOMMES AU BORD DE LA CRISE DE NERFS"
"THE OUTFIT"
"CHAMPAGNE !"
"BLUE BAYOU"
"COMPAGNONS"
"EXORCISM OF GOD"
"FREAKY"
"LE DERNIER PIANO"
"TÉNOR"
"LAND"
"COMMENT JE SUIS DEVENU UN GANGSTER"
"LES POINGS DESSERRÉS"
"DECISION TO LEAVE"
"PORNHUB : gros plan sur le géant du sexe"
"KOREAN FRIED CHICKEN"
"QU'EST-CE QU'ON A
TOUS FAIT
AU BON DIEU ?"
"BANDIT" (2022)
Découvrez l'avis de la presse et des spectateurs de l'année 2023 sur les films en streaming légal disponibles sur Netflix, Canal+, MyCanal, Amazon Prime Video, OCS, Paramount+, Disney+, Ciné+ et Apple TV+.